VISIONES: LATINO ART & CULTURE
SIX-EPISODE PBS SERIES
The award winning VISIONES:LATINO ART & CULTURE is a journey through the music, words, dance, painting and performance of rich Latino cultures made more complex and fascinating by their history in our country.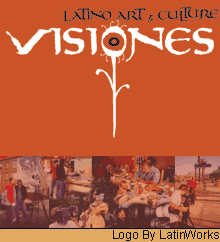 The series explores how contemporary Latino artists continue to build on rich traditions that reflect a unique multi-ethnic experience, taking established art forms and reinventing them, constantly challenging themselves and the communities which nurture them. From New York City's break-dancers to mural-painters in Los Angeles and Chicago to theater in Texas, the series offers a unique cross section of Latino artists working today.
A co-production of the National Association of Latino Art & Culture and Galán Productions, Inc. Presented by ITVS, co-presented by Latino Public Broadcasting. Executive Producers: Hector Galán and Sally Jo Fifer (ITVS)
Hector Galán: Executive Producer, Series Producer