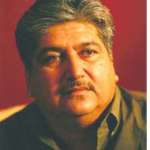 "My work has taken me across America, and deep into her past, from foster care in Arkansas, to race relations in the military, to the struggles of copper miners in Arizona. It is vital that such stories as the conditions of life in the colonias be part of the national historical record…"- Hector Galán,
Las Colonias, Winter 1998 Issue One, Texas State University
"The tapestry of Latino art is so intricate and diverse, that even a documentary such as 'Visiones: Latino Art and Culture' only scratches the surface of what Latinos are creating in our country. I am extremely proud to be a microphone for their work, to document their art, to publicize their culture," said Hector Galán.
LPB Press Release, Imagen Awards Event, June 2005
As one of the most prolific and impassioned independent filmmakers working today, Hector Galán, a Tejano from the West Texas city of San Angelo, has contributed over forty hours of programming to the national PBS television schedule including eleven episodes for the provocative series FRONTLINE, two programs for the PBS series The American Experience, and the landmark four-part PBS series, Chicano! History of the Mexican American Civil Rights Movement for which Galán was invited to the White House to screen the work for President Bill Clinton. His work has garnered numerous awards and recognitions including two Imagen awards, the Cine Golden Eagle Award, the Telly Award, SXSW Best Documentary, the Golden Apple, and the Blue Ribbon Award and numerous festival awards. (See Awards Link).
The critically-acclaimed Galán has won these numerous national and international awards and recognitions for exploring such diverse topics as migrant farm workers, (New Harvest, Old Shame, 1990) the dynamics of race relations in the military, (The Color of Your Skin, 1991) college athletics, (Chasing the Basketball Dream, 1984) and issues surrounding foster care, (Who Cares About Children?, 1992) for FRONTLINE.
Galán has cast his lens on the Latino experience in America, bringing the culture and history of the U.S. Latino experience to the screen. He produced two award winning documentaries for the American Experience. Los Mineros (1991), the story of Arizona's copper miners in the early half of this century and their struggles for equality, (SXSW Best Documentary) and The Hunt for Pancho Villa (Imagen Award, Cine Golden Eagle Award).
In 1995, Galán won CineFestival's highest honor, the Special Jury Award for his music documentary Songs of the Homeland, a film that for the first time told the story of the development of Tejano music- an American Music Genre- and its reflection of Mexican American history and culture. This documentary is now considered a classic and one of the most important documentaries on this music genre. Galán produced and directed with Henry Cisneros as narrator, The Forgotten Americans, a documentary about life in the colonias, America's poorest neighborhoods on the U.S./Mexico border, a co-production of his company Galán Inc. and Texas State University, funded by the W.K. Kellog Foundation. It had its world premiere screening at the Smithsonian Institute and its premiere broadcast on National PBS in December 2000, presented by KLRU-Austin. The Forgotten Americans, like most of Hector Galán's documentaries, is used by universities, public schools, and organizations throughout the country.
Visiones: Latino Art & Culture, an award- winning documentary series was broadcast on national PBS in Fall 2004.  Galán Inc. partnered with the National Association of Latino Art & Culture (NALAC) to produce the critically acclaimed and award winning Visiones: Latino Art & Culture six part PBS series, in association with the Independent Television Service (ITVS) , co-presented by Latino Public Broadcasting and with major funding from the Corporation of Public Broadcasting.
Los Lonely Boys Cottonfields and Crossroads, a film that captures the early beginnings of a band of "Texican" brothers from San Angelo Texas, had its world premiere at the 2006 SXSW film festival and was released theatrically that same year. The film also showed at the Los Angeles Latino Film Festival (2007) and at the Turks & Caicos International Film Festival (2007) and was nominated for an Imagen Award for Best Documentary in 2007.  It was broadcast nationally on PBS in Sept. 2008.
The Big Squeeze, a co-production with Texas Folklife and funded by the NEA,  is his latest film to be broadcast on PBS in a career that has spanned over twenty-five years of producing and directing groundbreaking films that capture the human spirit.
Galán's film, A Migrant's Masterpiece The Life and Legacy of Patrick Flores (2008) tells the story of Patrick Flores, the first Mexican American Bishop in the history of the Catholic Church. The film premiered on PBS in April 2008.
Galán completed principal photography, filming in Europe, Tunisia, and the Middle East, for a six hour series on early Christianity, The Road from Christ to Constantine. He is currently in post-production with a targeted broadcast date of Spring 2013.
He has been in pre-production on Children of Giant, a documentary feature set in the small west Texas town of Marfa that explores social issues throughout history, weaving a scenic exploration of the Academy Award winning film, George Stevens' Giant, and contemporary interviews. The film will include interviews with local people in Marfa, many of whom were involved with the making of Giant, as well as cast members and production crew. Pre-production began in 2011 and will commence again in summer 2012
Also in pre-production is  a landmark television series, The War Within  that will be an enlightening and thought-provoking journey into the rich and diverse history and culture of Latinos in America, told through the Latino experience in America's wars and on the last of the Tejano music trilogy, Orquesta!, that follows Songs of the Homeland and Accordion Dreams.
Galán has received numerous honors including the Cultural Arts Award by the Hispanic Caucus of the American Association of Higher Education, the Armando Marroquin Lifetime Achievement Award by the Tejano Roots Museum, and the AT&T Spirit of Communication Award. In 1996, the state flag was flown over the Capitol in his honor by the Texas House of Representatives in recognition of his work. He received the Alumni Outstanding Award by Texas Tech Alumni Association in 1997 and was named one of the 100 most influential Hispanics in America by Hispanic Magazine. He has had a retrospective of his work screened at the Smithsonian Institute in Washington D.C.
Right out of high school, Galán started out as a camera operator in his hometown of San Angelo and has worked in every aspect of television production ever since. While still in college at Texas Tech University, Galán was hired by KCBD, the NBC Affiliate in Lubbock, Tx, where he quickly worked his way up to News Director of the affiliate while still a college student. When he graduated from the University with a degree in Mass Communications, Texas Tech recruited him to work as a producer for the university based PBS Affiliate Station. While there, Galán created and produced two original programs- Aztlan, a weekly Chicano-themed news and public affairs show and Happenings, a show for the African-American community.
Early on in his career, Galán realized that his goal in life and as a filmmaker, was to bring diversity to national television, to bring real stories about real people. As a Mexican-American from Texas brought up in a bilingual household, Galán's dual cultural upbringing gave him a unique perspective and a deep passion to help change the face of television, to make its programming more inclusive. One of his programs, Disco Discrimination, caught the eye of Aida Barrera, one of the first Latinas pioneering television programming for the U.S. Latino community who was then creating and executive producing one of the first national bilingual magazine series targeting Latino youth for PBS called Checking It Out.
This breakthrough series was based out of Austin, Texas. Galán was initially hired as a production assistant for this national program, but again was quickly moved up to the Series Senior Producer position. A riveting story he produced for Checking It Out on gang violence in Chicago was seen by producers at WGBH in Boston who contacted Galán about a new series being developed at WGBH. In 1982 Galán was hired to work as a staff producer on this exciting new documentary series for PBS- FRONTLINE, with Jessica Savitch as anchor. Galán produced the third FRONTLINE of the very first season, and he would go on to produce a total of eleven programs for the FRONTLINE Series.
In 1984, after two years in Boston as a staff producer for FRONTLINE, Galán took a calculated risk and moved back to Austin Texas. He wanted to work as an independent producer based in Texas, and so he established his own independent production company, one of the first production companies based in Austin, Texas. His first documentary as an independent was Cuba: A Personal Journey a film he produced for NCLR, the National Council of La Raza. Cuba: A Personal Journey was broadcast as a special on PBS. He continued to work with FRONTLINE as an indie producer in addition to producing for The American Experience, in partnership with other production entities, and on his own independently produced programs.
Galán has also mentored others throughout his career. He has taught production and editing workshops for various organizations throughout the United States, Mexico, and Europe, including a KTOO-TV sponsored program where he taught producing and editing skills in Yup'ik Eskimo communities throughout the state of Alaska. He has also taught production workshops in Guam and Hawaii sponsored by Pacific Islanders in Communications. Galán was invited by the U.S. Department of State to travel to and screen his films at selected universities and schools in Thailand through its cultural exchange program. Galán is a founding board member of the Independent Television Service (ITVS), and has served as a mentor of the CPB Producer's Academy and the NALIP Producers Academy. He served on the advisory board member of the Burnt Orange Productions/UT Film Institute in Austin, TX. and is also a frequent guest lecturer and keynote speaker at universities and national conferences throughout the country.
Please email requests through comments for a complete resume.